We have been working on a number of improvements for the SEO performance of our platform. Many of these improvements were based in your feedback and ideas that you posted in our ideation category. Read more to find out which improvements have been implemented.
Meta title and Meta description
Inspired by Change meta title and description from @Ilse 
The SEO title is displayed on your browser tab and tells you what page you're on. SEO titles and descriptions are also read by search engine robots and seen by users searching the web. We have added SEO settings to the home- and category pages where you can change the meta title and meta description of a page.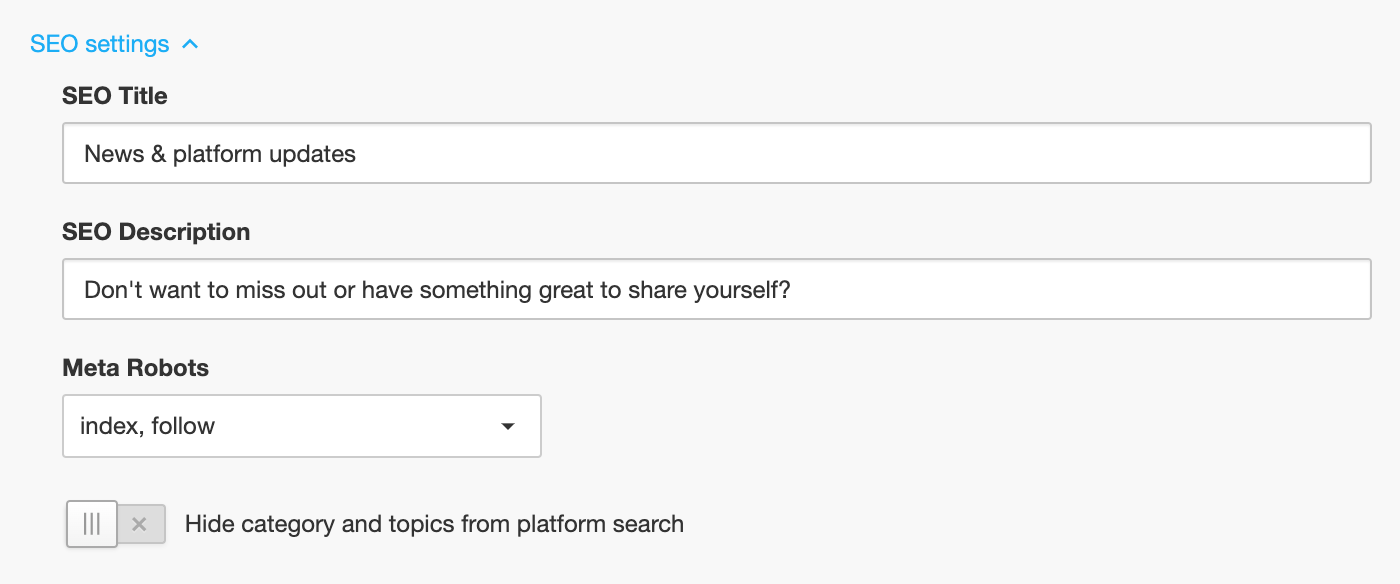 Archive / Hide old content
​Inspired by Archiving - improve customer experience by showing them only relevant content from @Florian 
As your community grows and starts collecting more content over time some content might become outdated and irrelevant. To make sure your users find relevant content you want to hide older content. We have added additional settings to category pages in control to hide old content from search engines as well as your platform search (live-search dropdown and search result pages)
Structured Data for articles and unanswered questions
Inspired by Use Google Structured Data to display enriched FAQs and How-Tos from @bjoern_schulze 
We enriched article topics with structured data. Google search results for eligible articles may have an enhanced appearance in search results. Enhanced features can include placement in the Top stories carousel, host carousel, Visual stories, and rich result features such as headline text and larger-than-thumbnail images.
In order for articles to be eligible for this enhanced appearance they need to have a featured image and a logo. We'll reuse the logo that you provided in Control → Customization → Header → Logo for this.
More info on structured data can be found here: Structured data for Articles, Structured data for QA
Other SEO Improvements
Next to the improvements above we made the following smaller under the hood optimisations:
Made various search page titles (recently active, help others etc.) more SEO descriptive

Cleaned up URL structure and redirect URLs to improve the crawling budget of search engines

Made recently active and help others tabs crawlable
That's everything for this update, we hope you like the new improvements we made.