The Product Feedback Dashboard goes live!
Ideas from your community strengthen your product and are precious data points for product teams.
The Product Ideation Dashboard will now be available for all communities, extending it from the previous beta testing communities.
Why are you doing this?
Your community should be one of the most important sources of ideas and improvements suggestions from the users of your product. This dashboard allows the community manager or a product manager to track the community's creation and status of ideas. 
But wait, where can I find all this?
The Product Feedback Dashboard is now available in analytics.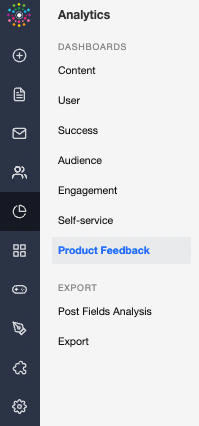 Can I see a list of all the ideas of my community?
The ideation trends table allows a quicker understanding of the evolution of the status of an idea in a period. It also provides the full list of all ideas from your community.
Filtering for users of a specific customer (company) allows identifying better the ideas that matter to those users and enable faster loops with product teams.

Can I drill down what ideas are most important for a specific customer of my product?
Yes, if you have the SFDC integration enabled, a company drop-down menu appears next to the date range. You can select one customer (company) of your product and have all the widgets reflect the ideas created and voted by the community users of that specific company. If you do not have the SFDC integration, you will see all ideas submitted in the community.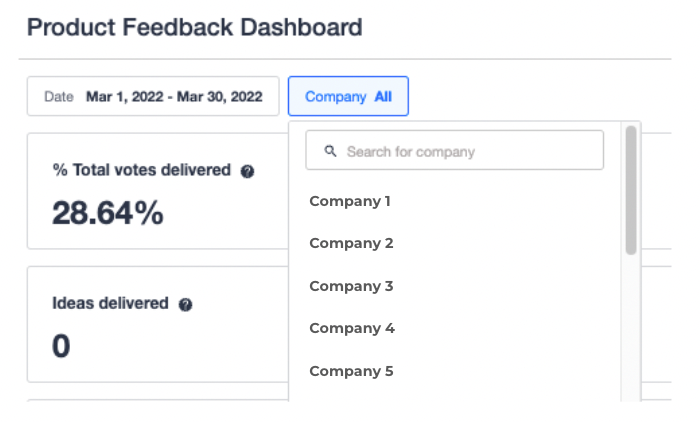 Why do I only see a small set of customers in the company filter drop-down?
The drop-down is limited to a maximum of the top 25 customers that created or voted for ideas.
You can still use the search option to filter for any of your customers.
Wait, but how can I see who created or voted for a specific idea?
Every idea in the ideation table links to the topic there, and you can see the details for a specific idea. 
It is unclear the ideas created vs. ideas voted by users from a customer. Are there improvements planned for this?
Yes, we aim to add more information to the ideation trends table. Namely:
Differentiation between ideas created and voted by users of a company (when the company is selected)
Idea creation date
Count of votes and replies for an idea from the users of a company
The company filter is excellent, but I need more filtering options. Which others are you considering?
We want to leverage the data that we have on the users of the community as much as possible. We are considering filtering for roles and badges, but we would love to hear from you. If you have suggestions, please add them to this ideation topic.
We'd love to hear your feedback or any questions about this release.