We're happy to release the new User Overview page into beta! 
As we're getting ready to work on some big improvements in managing your users (think advanced filters, bulk actions and more), the first step towards this is upgrading the UI to our new design system. Read on to learn what's new, and what we've got in store for you next.
What's new?
The new User Overview gives you a more crisp look of your users, but apart from a visual makeover, we've smuggled in some small improvements already. 
Customize which columns to display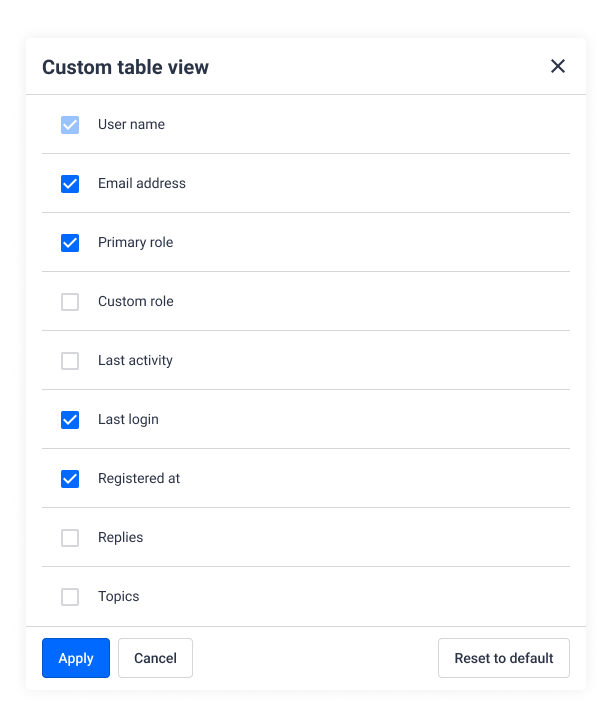 First off, you're now able to customize which columns you want to display by toggling them on and off. This will allow you to show the user properties that are most important to you. As you may have guessed, we'll be adding more columns for you to choose from in the near future.
See the number of (filtered) users

Secondly, you're now able to see the total number of users in the User Overview. Also, when you filter users, you will also see the number of users that match your filtering criteria.
What's next?
We're getting ready to deliver on some much requested improvements to make user management way easier. First, we'll focus on adding more advanced filtering capabilities so you can more easily drill down on the users you're looking for. In order to save time and clicks on your behalf, we'll also be focussing on performing some time consuming bulk actions on your selections. 
Feedback
As this feature is in beta, please share all the feedback you may have on this feature!
What do you think of the new User Overview? Anything you'd like to improve?

What are you most looking forward to next in regards to user management?

Which improvements would make the biggest impact on the amount of time spent on user management?