We are delighted to release in Beta the new Community overview page :)
A couple of months ago, we released a new overview page for the Knowledge Base. We are now releasing a similar feature for the community module in Beta.
Our objective is to provide a page for end-users to explore all the community content. By using the community overview page, you can free some space on the homepage to be used as a "Customer Hub" landing page, making it easier for your end-users to explore all the resources available. Read on to see what we mean by "Customer Hub." 
.
What's new?
Customizable Community overview page
The main news is that this page now exists! And you can configure the look and feel of widgets displayed on the Community overview page. The rest of your theme will apply automatically.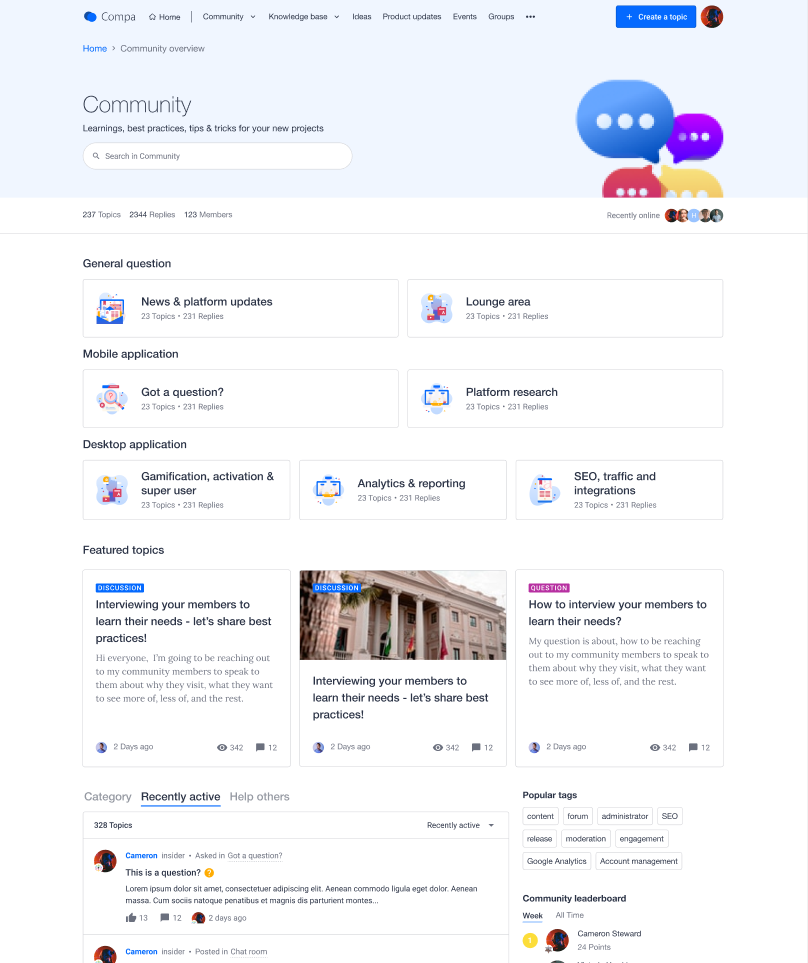 Link added to Mega Menu
The link to the Community overview page will be accessible from the Mega Menu in the Community dropdown. 

Side note: In parallel to the Community overview beta, we will run A/B tests around the discoverability of the overview pages in the Mega Menu. More to come on that topic soon :)
What is a Customer Hub?
A Customer Hub is a platform that serves as a destination for all customer communication, CS resources, and peer-to-peer best practices and knowledge exchange. It's the epicenter of your Digital Customer Success strategy. Through a Customer Hub, customers and users can access onboarding, adoption, and support content to help them reach and realize value faster throughout their customer journey. A Customer Hub enhances the customer experience by driving engagement, speeding up time to value, and fostering community.
Why do you need a Customer Hub?
Users often have trouble finding the right content at the right time. In addition, the typical split across multiple platforms (LMS, Support platform, Knowledge Base, Community…) creates confusion and friction in the community customers experience. Finally, there's a clear need to integrate CS and CRM tooling and data with a customer-facing portal to centralize information about the customer journey to understand better and improve the customer experience. 

Whether users are looking to share an idea, access training, or are just checking out a new product release, we want to offer them a single, centralized space to go: the "Customer Hub." We see a "Customer Hub" as the primary tool to help them achieve their goals and guide them to find the right content. 
How can I test the Community overview page?
Check out this article to learn how to set up and test the page:
Based on the number of InSided modules you use we recommend a different use for the community overview. The below article highlights best practices to structure your Community overview based on your use case:
Note: We enabled the feature on both your production and staging environments. 
As this feature is in beta, please share all the feedback you may have on this feature!
Are you happy to use this feature in its current status? If not, why?
Are you seeing things you would like to improve?