We are happy to announce that you are now able to convert a question into 
an idea and vice versa!
You have probably experienced the situation when a community user is posting a question about the product that turns out to be a feature request, as your product does not yet offer that functionality. Now the moderation team can easily move such a question into the Ideation module so your product team becomes aware of the request, alongside with the rest of you customers who might be interested in that functionality as well. 
Similarly, a community user might not be aware of the existence of certain product functionality and is posting an idea to convey their need for that feature. The moderator responsible for the Ideation module can convert that idea into a question and move it to a fitting community category, while also providing guidance on how that existing feature might be used. 
How does the conversion feature work?
Convert a question into an idea
On the topic moderation page in Control, in the top right corner there is a drop-down menu that contains all conversions available for that content type. Now, when opening a question, in that drop-down there will be the option to convert it into an idea.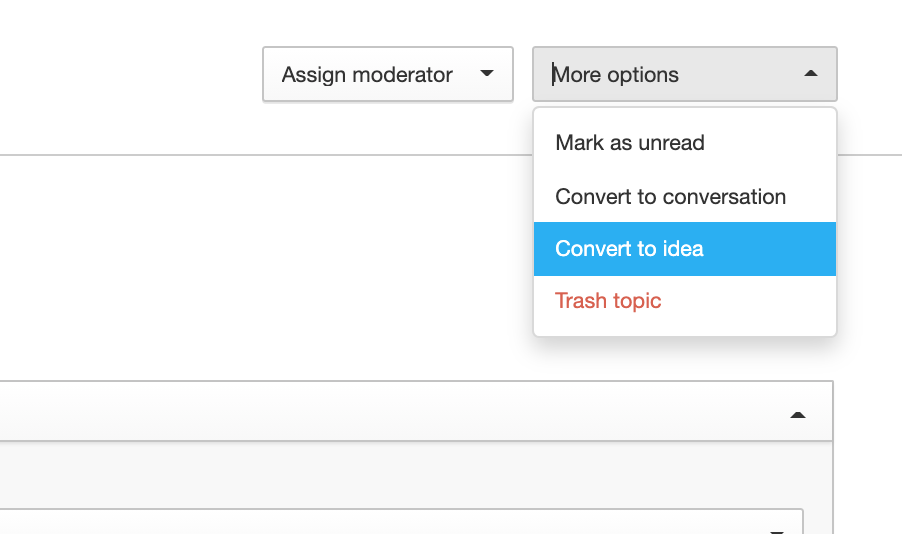 The question will be immediately transformed into an idea and the page will reload, displaying now that topic as an idea with the default ideation status. You will be able now to update the status and add product areas, as needed, and assign a moderator (product manager). Any public tag that was added to the question, will be kept on the topic after the conversion. 

Convert an idea into a question
When an idea needs to be converted into a question, in the same "More options" drop-down menu, click on "Convert to question" option. A modal will open up, where you can select the module (Community, Knowledge Base, or Groups) and a specific category where you'd like to have the converted question published in. By clicking on convert, the change is applied and the topic will lose the idea properties mentioned in the copy below.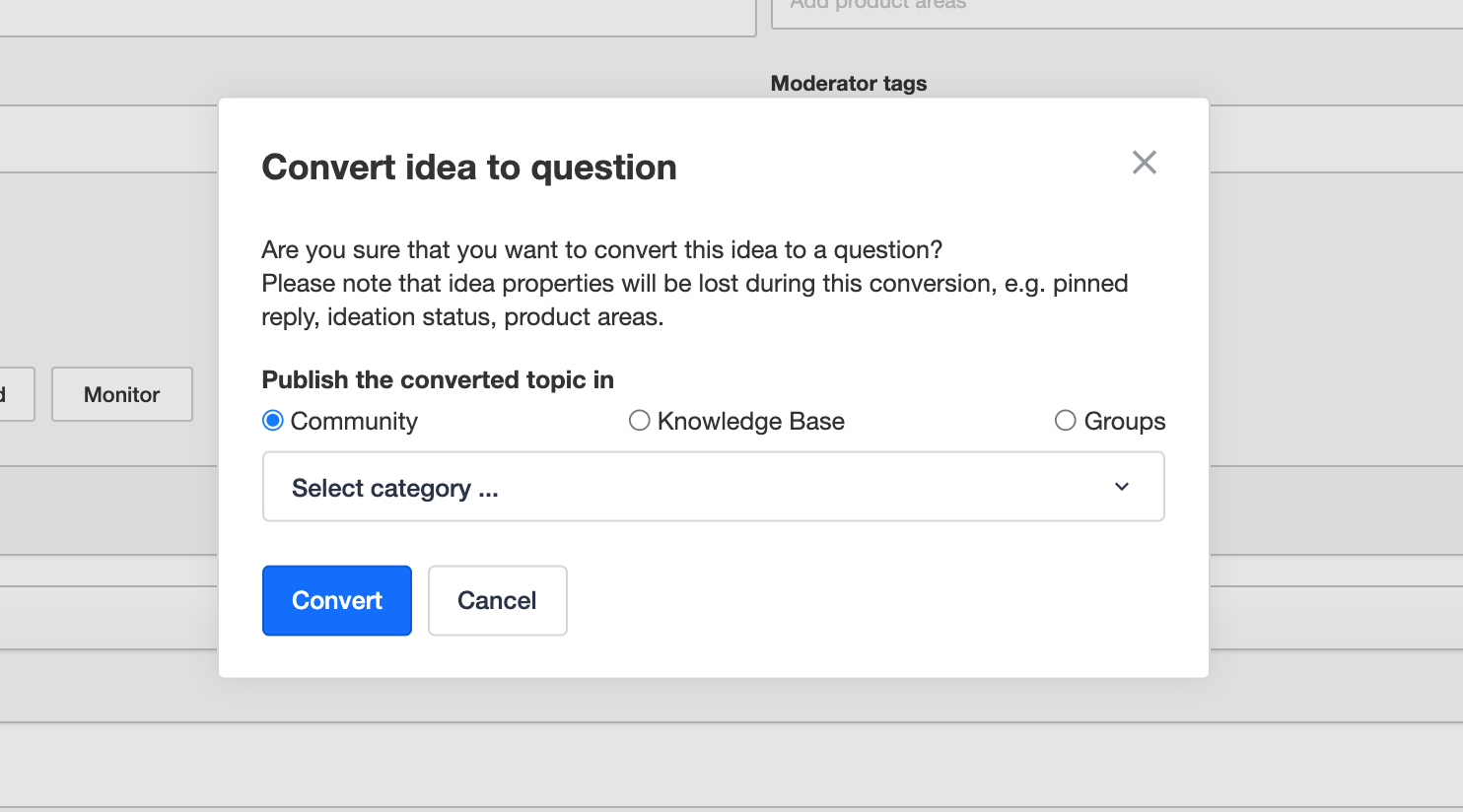 Further details
Can I convert a conversation into an idea? 
Yes, if the conversation is converted first into question. The same would be needed when converting an idea into conversation: idea → question → conversation 
Why is it possible to publish a converted question in a Knowledge Base category? 
It is surprising at first glance, since it is not possible normally to publish questions in a KB category. It is possible already to move an existing question into a KB category, and therefore, we wanted to keep this functionality available. Moreover, you could convert that question into an article, if needed: idea → question → conversation → article
What happens with the votes on an idea after the conversion into question?
The votes will be transformed into likes and the converted question will receive the same number of likes as it has votes. 3 votes → 3 likes 
Is this available on the old ideation as well?
No, this conversion functionality works only with the new Ideation module.