You might be unaware of this, but notification emails are actually quite a powerful tool in order to stimulate your users to become (even more) active on the community.

In this topic you will find out how to improve the content of your notification emails in a way that they will have a maximum impact on your users. Of course you might have more/different ideas than the once presented here. If you think they might be of value to others, please feel free to share it with us in the comments!
In case you are changing your notification emails for the first time, here a guide to help you on the way.
And if you a wondering which notification mails are being sent, check this topic
Tone of voice in your notifications

The default text of the notification emails is rather formal. Let's fix that first, because you want your users to have fun on the community, right? Of course you will have to comply with the policy of your company. Nevertheless, try to think about which words would make you feel happy, and copy that!

In my opinion, the team of the mint mobile community has done everything right. Many kudos, I really like the way they communicate with users:

When someone is being mentioned, the user will receive this: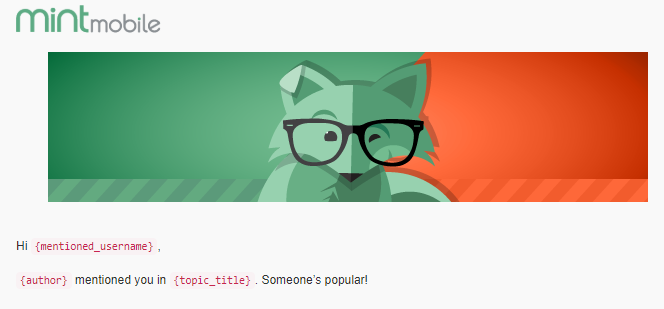 Even the "reset password" email has a fun line added: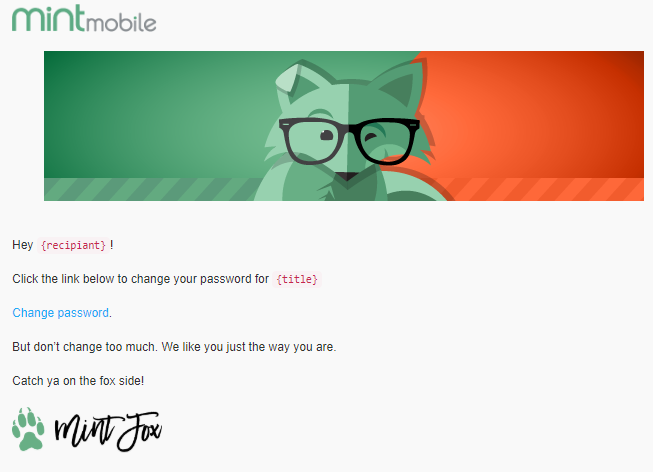 You can see that adding an informal, funny line can create a much more personal touch. Users will remember this and hopefully they will feel more welcome and invited to become active themselves.

How to improve the notification emails in the community

If you do not know how to improve these emails in the control environment, then I can recommend to visit this topic! There we explain everything you need to know.

Improving specific notification emails

The list below will cover all the relevant notification emails which are being send from your community.

Password reset / Activate account

Note: In case you are using an SSO login, these emails will not be used.

For these emails, there is not much to do. I would simply recommend to keep the tone friendly and inviting. For the "activate account" email you might want to add an explanation of what will happen once you activate your account.

Account activated

The activation email is a key moment in the journey of your users. They clearly want to participate, but they are still at the very beginning. This is where a good notification email can really make a difference:
Give your users a warm welcome by chosing an informal tone of voice
Advertise the benefits of engaging in your community (e.g. "learn more about your product")
Link to the "how-to"-section of your community (don't have one yet? Check here!)
Provide links to different categories, maybe even directly to the "create a topic"-page (Were you not able to find your question? Ask it here!)
Some communities even have a dedicated topic (example from ID mobile), of course that could be a nice addition to your notification as well!
New reply / topic has been marked as answered

These notifications inform the user about a new activity on the community. Make sure that you include additional information about how a user can stop notifications from being send. This can be done in several ways, the text below actually includes all of them:

Remove from favorites (Link: https://community.insided.com/favorite/overview)
Ignore the email
Adjust the notification preferences (Link: https://community.insided.com/settings/general)
Alternatively, you could also link to a topic on your community which explains how to turn off notifications. This is also covered in our topic about the "how-to" section.

New topic

This email will only be sent when a user has subscribed to a subforum. As the subscription to a subforum can only be disabled in this subforum, this means that you cannot use the same disclaimer text as in the notifications for e.g. new replies.

I would include a simple text which says that you have to turn off the notifications in the specific subforum. Again, you could also create a how-to topic for this, and include the link in the mail.

Well, that's it.
Do you happen to have questions, or do you know other tricks around email notifications which have not been covered here, then please let us know in the comments.

Cheers,

Julian