Now that the heatwave is over in our Amsterdam HQ, we have some hot news to share with you: our latest roadmap update. In the last weeks, we focussed on making it easier for content managers and moderators to create content. We delivered a draft functionality to make it easier for you to prepare knowledge and blog content in advance. We also provide a way to convert conversations into articles, enabling you to 'promote' knowledge generated by your community experts.
We're also running a closed beta of our Salesforce integration. By combining community data with Account/Contact data, our integration enables you to get deeper insights and intelligence around the reach, engagement, growth, and composition of your community. Get in touch with
@daniel.boon
if you're interested in joining the beta, or if you'd like to learn more.
Meanwhile, we continued working on our knowledge base capabilities and upgrading our editor. Our mission remains: make it as easy as possible for your users to find content on our platform.
Read on to find out what we're working on now:
Knowledge base
We continued working on dedicated knowledge base categories. Our goal: put your company official (support) content at the fingertips of your users.
Knowledge base categories will have an optimized UI/UX, allowing users to quickly find the right articles that will help them to help themselves.
Add a knowledge base to your community in which you can easily curate and structure content.
Improved formatting capabilities
We updated the mechanics of our editor to support HTML content.
We plan to add additional formatting capabilities: tables, code blocks with syntax highlighting, drag- and drop images, multi-level lists, anchor links, find & replace inside topics, and buttons.
Search in categories
This feature has been paused in favour of the knowledge base and improved formatting capabilities. We plan to work on this in the near future.
When you perform a search on a parent category or category page you will only get to see topics that belong to that (parent) category.
Pushing click events to Google Analytics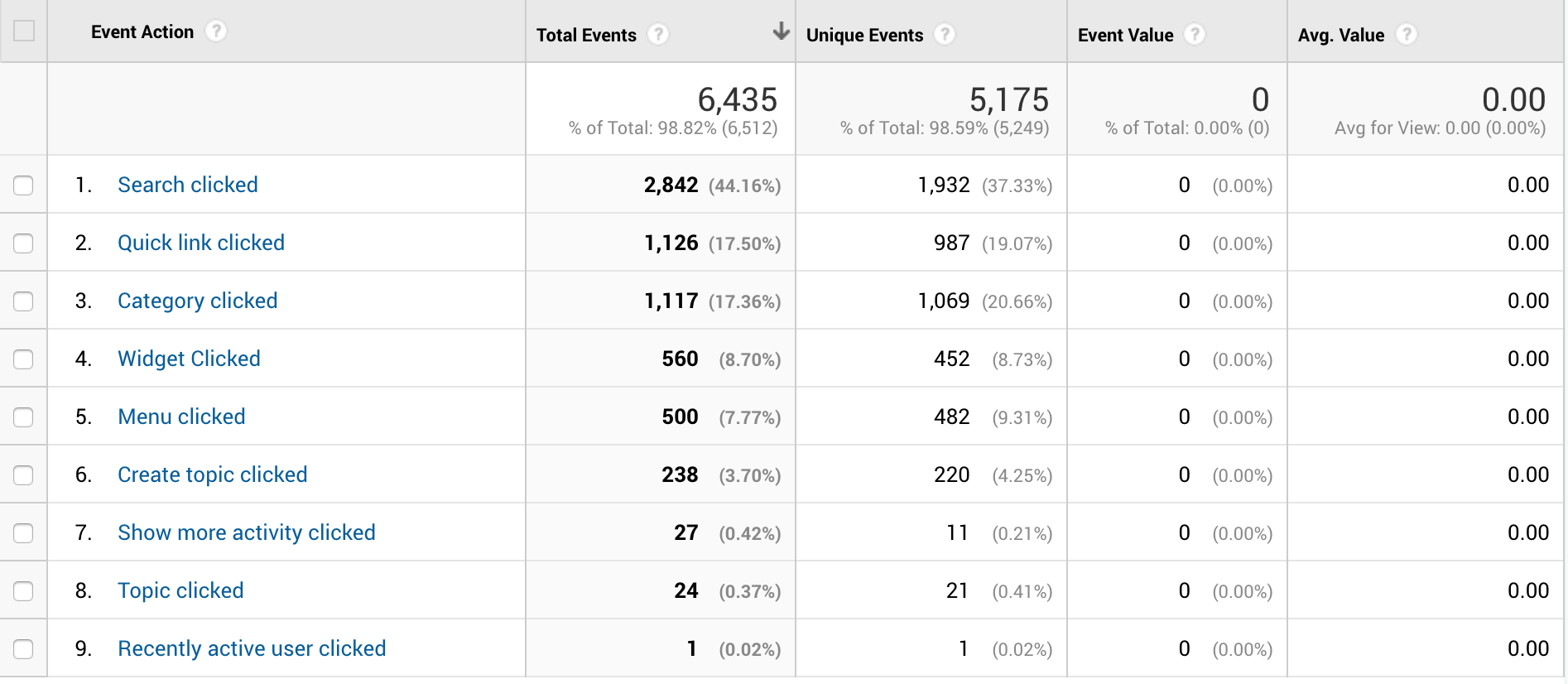 Based on your feedback we've looked into pushing click events to your Google Analytics so you can analyze user behavior inside your GA account.
The first click events on categories, quick links, (featured) topics and more are already being pushed to your GA account. Log in to your GA account and navigate to Behaviour → Events → Overview to see them.
More documentation on GA events will follow on inSpired soon.
Salesforce integration
Our Salesforce integration will help you gain more intelligence on your community and its impact by linking community members and their activity to Contacts and Accounts in Salesforce.
We're currently running a closed beta for the integration - we're still open for new participants! Contact @daniel.boon if you'd like to find out more/join the beta.
Articles overview
We're working on tools to help you keep your knowledge base content/articles up to date.
As a first step, we'll enable you to access an overview of all of your articles, with information to help you identify what might need an update.
Core platform improvements update
We're on the verge of finishing the job with our core platform improvements..
Once your community has been upgraded to the new version, you'll be eligible to start using the beta for API 2.0 (containing all key functionality for Conversations, Questions, and Articles), as well as webhooks. Get in touch with @daniel.boon for more information about the beta. Thanks for your patience and continued collaboration.
Completed product improvements since the previous update: