Hi all!
I am excited to show you a quick preview of the first dashboard which we will release: The content dashboard!
As some of you have heard already, we have chosen for
Qlik
as our provider for the next generation of dashboards. I (personally) am fully convinced that their solution is the best choice in offering you deeper insights into the activity on your community. It will enable all of us to monitor relevant KPIs as well as track user & staff activity to the smallest detail, all in real-time and only a few clicks away!
What will this first dashboard focus on?
The content dashboard is focussed on monitoring the daily activity, so it is ideal for Moderators and Community Managers to learn e.g. what has happened over the weekend, or how active the superusers have been compared to the previous week.
How is the content dashboard structured?
Top row:
Distribution of user roles, Amount of questions vs. amount of discussions, activity over time.
Mid row:
KPIs (and change to previous period) of the number of topics, number of replies and number of likes given.
Bottom row:
Top list of categories containing number of topics, top list of topics (incl. amount of replies and likes).
What will I be able to see?
By defining a timespan, the complete dashboard will of course adjust all other relevant measures. The KPIs will then automatically calculate the change compared to the previous period:
You can browse through the chart to identify spikes (hovering over the details will show you more concrete data), and you can even click on certain items in order to filter for them...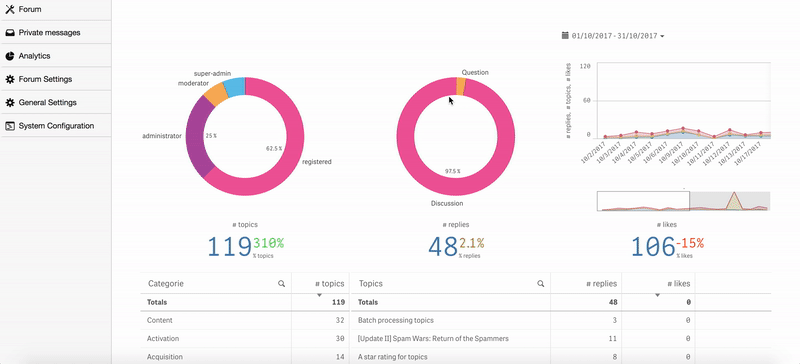 You can then also click on the categories, to see the activity of specific user roles within individual topics within that category (and filter this on a certain time period, if you wish to).
Ok, that sounds all nice and neat. But WHEN WILL WE BE ABLE TO USE IT???
My colleagues are doing their best so that it is being made available before the end of the year, if we cannot make that it will be the beginning of january. We are currently refining the dashboard, to ensure that everything is running smoothly and according to your expectations. Also, we need to upload the data of all communities into this, so that takes a bit of time. So once everything is signed off internally, you will be able to use it.
Any more questions?
If so, please let us know in the comments. It would also help us a lot to know if you are missing something, or if you like to see something optimized.
Cheers,
Julian