Ever accidentally lost a bit of content when you were rewriting an article? Or are you collaborating on articles across a large content team, and having to chase each other or add comments externally about who changed what?
With our new article version history, all changes to the content in your article are now completely transparent to anyone in Control. You can now have full confidence in the changes you make.
With article versioning you can:
 Check every content change made to an article, from the first draft to the latest and greatest live version.
 See who changed an article, and at what time they made the change. 
 Recover any particular content from a version via a simple copy/paste.
See our new version history feature dramatised in action below: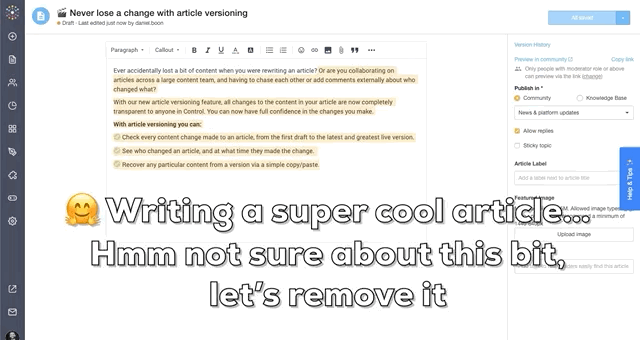 Note: your existing articles from before we launched this feature will currently only have one version (the latest one).

Let us know what you think of the new article versioning feature in the replies - we're excited to hear whether you like it, and any feedback you have so we can improve it further.