A feature that has been requested by a lot of customer is to have an @mentions functionality. We're happy to announce that you can now make use of this.
The quality of service and response time are important factors that determine the customer satisfaction of your community. Using @mentions enables you and your users to trigger a quicker response from a specific user or moderator.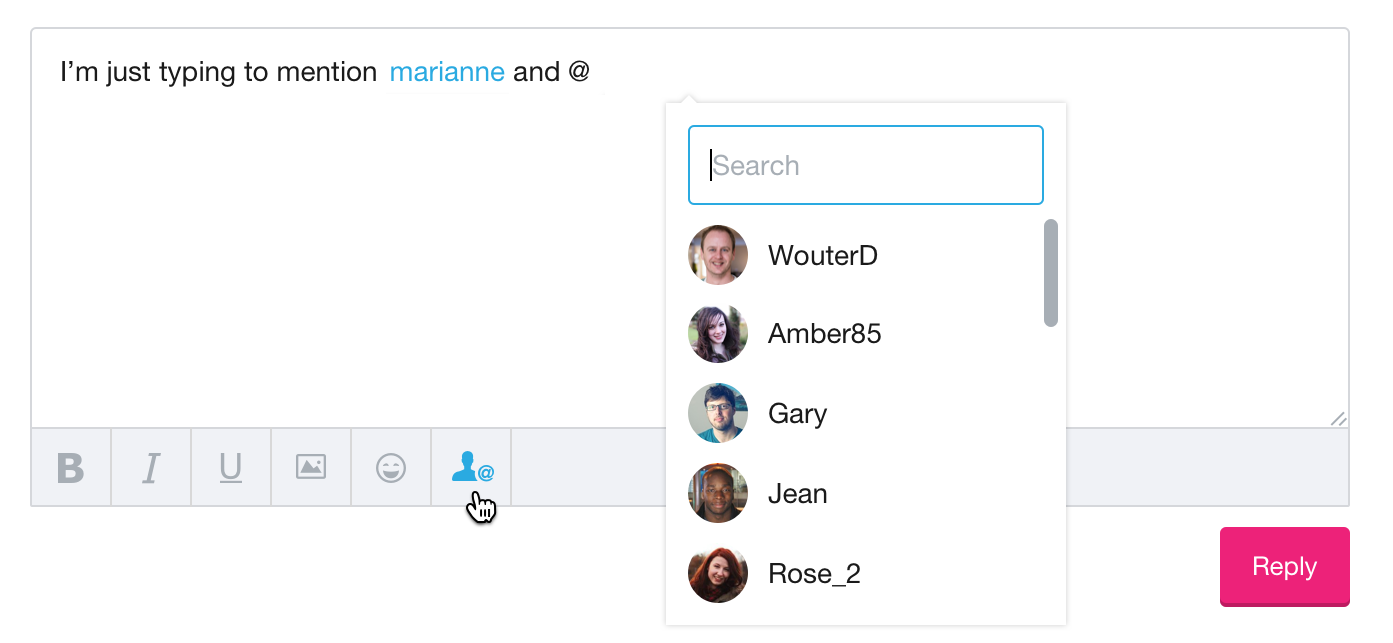 How does it work?
It's very straightforward and similar to how @mention works on social media platforms. In the text field, when you type "@" a box appears that shows all the user who have participated in the topic you are posting to. You select a user, and his username will appear in the post. Once published that username is shown as a link (directing to the user profile). The mentioned user will receive an email, stating he has been mentioned in a post with a link to that post.
Next to typing "@" , you can also activate the @mention functionality by clicking on the "@" icon that has been added to the text editor.
If you want to mention a user who is not active in a thread; just type his username and after 3 characters all usernames that begin with those letters will appear in alphabetical order.
What happens to old posts with @ signs?
Nothing. @mentions will only be shown in posts that are made from the date the functionality was added to your community. (thanks for the question
@benvanooijen
)
Is mentions available in Control?
No, for now you can only @mention in the community. In Q2, we are going to build a WYSIWYG editor. Once this is in place, we will add the @mention functionality to that.
How to get @mention in your community
To enable @mentions in your platform, some small adjustments need to be made by our implementation team. This will cost 6 support hours.
To benefit from @mentions on your platform, you can simply send a change request to support@insided.com. Our team will plan and coordinate your @mentions implementation.
Please be aware that @mentions is only available on our Responsive template.
--------
Are you going to be using @mentions a lot? Try it out here first on inSpired.