Some users can cause seriously bad vibes on your community. Maybe they've broken your community guidelines, or they're being really offensive. You can choose to ban these users. If a user is banned, they'll no longer be able to sign in to the community (and therefore won't be able to post anything, or interact with other users). When a banned user tries to login, they see a message indicating that they're no longer able to access the community (see below for a screenshot).
 
How To Ban A User
Go to Control > User Overview > Choose a user's profile.
Press the bright red 'Ban user' button (this immediately applies a ban).
The user is now banned and can no longer sign in to the community.
Accidentally banned a user? No problem. Just press the 'Unban user' button!
Message displayed to a banned member when they try to sign in: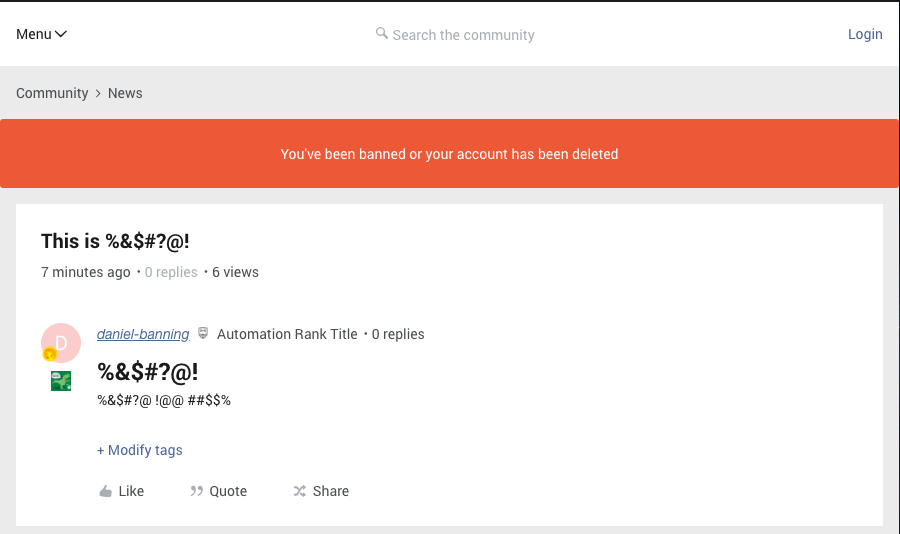 Tips, Tricks, and Technical Bits​​​​


Need to find details of all banned users on your community? Use the primary role 'Banned users' as a filter on the user overview. As a side note: changing someone's primary role to 'Banned users' has the same effect as pressing the 'Ban user' button.


Banned users are still able to browse the community, as lurkers. In order to prevent a particularly abusive user from accessing the community, inSided can manually set up an IP block. Just send an email to support@insided.com, including the user's details (username or email address) and IP address.


You can also ban a user from the topic overview. Just click the profile element next to a user, and press the 'Ban user' button.


When you mark one of your user's posts as spam, they'll be banned automatically.