Hi,
I'm not sure if it's just me, but I don't remember signing an employment contract with inSided and I'm pretty sure I've never been on the payroll, let alone been to a job interview! 
 But for some really strange reason, the inSpired Community apparently thinks I am an inSided staffer. Is it trying to use some kind of crystal ball?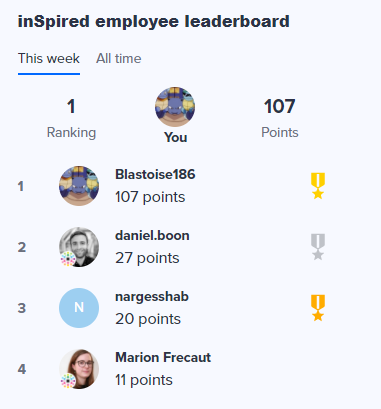 I'm not sure if it's because I'm not a verified customer or whether it's because I don't have any roles/ranks beyond the automatic ones. But I do feel a bit bad for @daniel.boon as a result of taking his spot. Would it be OK if I could hand it back to him by any chance? 
It's great to know that I'm definitely welcome here and racking up points pretty fast… But erm… I'm not sure I'm meant to be going straight from a new member to the top of the employee leaderboard in just three days! 
Best answer by Julian 9 March 2021, 20:27
Well first of all welcome to inSided! Never mind taking Daniels spot, as he is used to come in second when it is about competition amongst colleagues. ;)
What we are seeing here has to do with a speciality of our community: We identify who is a customer and who is not. As you are technically not a customer, you ended up without a custom role which would exclude you from the inSided leaderboard.
So I will do two things now:
make sure you make it off this leaderboard and back into the right leaderboard
start working through my inSpired backlog to ensure that Daniel stays in his second spot
I think then we should have everything covered! :)
View original