Ideation is a form of conducting research and product development that comprises aspects of Co-creation and Crowdsourcing. Ideation focuses on your customers as they are the starting point of improvements for your products, services and/or processes and allows your company to gain insights on its customers. Ideation can be used to successfully bring together customers and their brands by providing a unique channel of communication, between different areas of the business and the knowledge that exists within their customer base. Ideation allows your company to gain insights on its customers and use them to evaluate the quality of its services or generate ideas for new products. The effect on customer perception means too that, through ideation your company can portray its brand as being transparent, forward looking and as responsive to its customer needs.

There are three methods used to perform community research:
Conversational research: this is a process through which brands start a dialogue with their customers in an online community and generate insights by asking them specific research questions. The main tools used to gather insights from the knowledge base in conventional research are surveys and questionnaires.
Co-creation: this is an iterative process through which brands work closely with the members of their online community in order to jointly improve product, services, marketing campaigns or virtually any process or offering of the company (more information on Co-creation can be found in inSided's Co-creation whitepaper).
Ideation: This is a creative process by which ideas are generated, developed and communicated. In ideation, the customers propose and vote on ideas intended to improve current products, services and/or processes—new products may also be proposed by customers. Unlike the other two methods, ideation entails a decentralized process of idea generation and selection.
In order to understand the advantages, benefits and challenges of ideation the next chapters will discuss the impact that it has on an organization, discuss successful cases of ideation and describes how the inSided ideation module can be used by your company in an optimal manner.

Want to read the whole whitepaper in your own time? Download the pdf here.
 
How does an ideation category work?
The purpose of an ideation category is to help your company involve its customers and, in the process gain social insights, improve its products or services, or co-create new products or features to existing products with customers.

From a day to day standpoint, the community moderators play an important role in managing an ideation category and making sure that channels of communication are established internally, with the right departments or areas, as well as externally, with the ideators engaged in the process of proposing ideas, discussing proposed ideas and voting for their preferred ones.
Creating an ideation category means that you invite your audience to share an idea. This could be related to a variety of business areas: an idea to improve the company's provision of customer services, the online community, or concrete products, processes or marketing campaigns. Given the many possibilities it is essential that you have a clear objective for the ideation category and that you separate ideation categories according to products or departments—the key here is to ensure that each category gathers ideas in an efficient manner, that is, in a manner that allows for a clear process flow for the filtering, study and, if it's the case, implementation of the proposed ideas.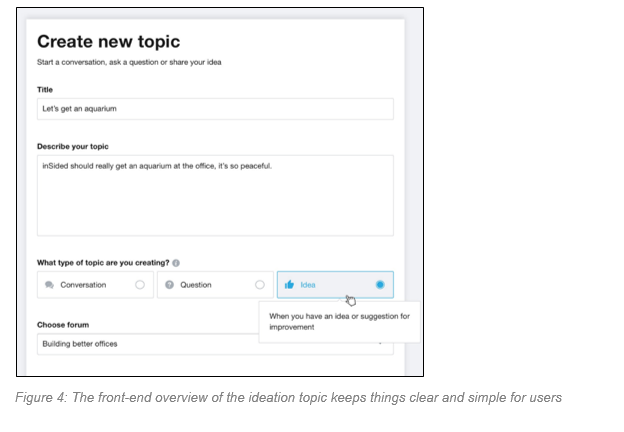 Once the idea topic is posted within the community, other people get the opportunity to like or vote for this specific idea as well as comment on it. Just as with any other standard category topic, comments help to enrich the conversation by bringing together differences in opinion, complimentary aspects to a proposed ideas and unforeseen challenges. People can ask questions or give input to sharpen the idea. As votes accumulate, people expect from you that each idea receives a specific status and that such status corresponds to a true assessment process. The status given to each idea is visible in the community. A possible, albeit simplified, set-up for the statuses of each idea could be:
New
Discussion ongoing
Implemented
Rejected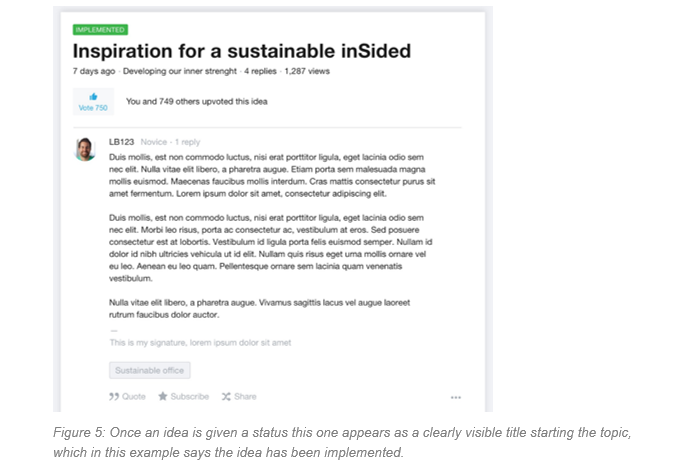 It is possible for both users and moderators to filter all the ideas based on KPIs such as the number of likes, number of comments or on the posted date. The organizational embedding of the ideation module (Social Marketing, Social Support, Social Commerce, and Social Insights) requires for a clear process to be envisioned and set in place. The business cases presented in Goals of Ideation showed that transforming the ideation efforts into an efficient process of idea selection and implementation is one if not the biggest challenges that companies face. The chapter on organizational embedding discussed, in turn, the main elements that ensure that ideation results in a cost-effective process that produces clear value for both company and customers. An ideation category can provide your company, therefore, with the right technological platform. By being part of your online community, your ideation category can benefit from the meeting point that an online community establishes between you and your customers: a space where conversations about your products, services and your brand already take place. At the same time the ideation category gives your company the control, which is necessary to ensure that the ideas generated result in real value for your business.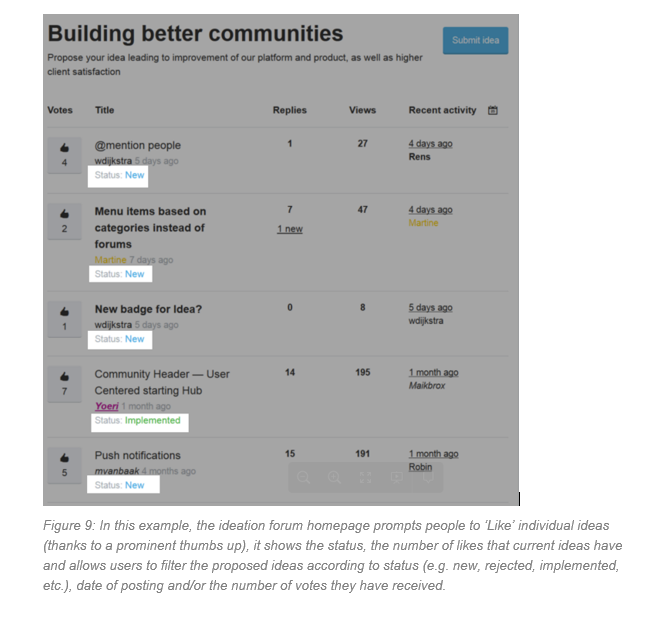 Just like ideas vary in depth and complexity so do ideation efforts. Like all forms of co-creation there are different levels of ideation to be seen. There are two types of variables that define the level of ideation: open versus closed and high or low impact for the organization versus perceived customer influence.
Open versus closed
One of the most important questions with regards to the use of ideation is whether your company wants to involve every customer in the process of idea generation or only a selected group of customers. This distinction characterizes the difference between closed and open ideation. The distinction between open and closed ideation is related to the business literature on Open and Closed innovation (Chesbrough, 2006). According to this literature innovation in companies is transitioning from a closed model of innovation and towards and open model of innovation. Closed innovation is done in silos and by teams of specialists, such as R&D departments. The rationale behind closed innovation is that radical improvements and new products require people with advance knowledge, for instance, profound knowledge of software development in order to create a new program. Scholars argue that closed innovation is transitioning towards an open model, because the input of users has become more important: users of social media, to name a case in point, may have a lot of ideas about improvements that would positively impact their ability to share and communicate with others. Overall, choosing an open or a closed innovation model depends on a company's ability and interest in involving customers and end-users in the development of their own product and services. Such involvement entails both opportunities and challenges, which must be properly assessed. A similar assessment should be made when implementing an ideation category.
Open ideation
In the case of ideation, open ideation means that your organization is willing to listen (and execute) ideas provided by any of your customers. You can always control the level of their participation or engagement in the process of idea selection (see: high or low impact), but with an open kind of ideation, you don't place any restrictions to their idea proposals.
 
Closed ideation
On the other side of the spectrum, you have closed ideation. Closed ideation means that you create a closed environment (for example, a specific community group has access to the ideation tool), where you can control who can propose a specific idea.

It may be also possible for you to implement a mix of these two, by, for instance, having an open ideation process for ideas on one product and a closed ideation process for ideas on a second product.
Ideation: Some examples
Here we present an analysis of case studies that show different ways to gather, process and implement a pool of ideas submitted by customers.
It does so by highlighting the way in which actual ideation is structured and implemented combining two or more of the following basic elements: customer input on ideas, customers' participation in the process of selection through voting, a stage of discussion may take place during the voting process and then the most voted ideas are chosen by the company, followed by a roadmap of implementation, including communication to the ideators (participants). The theoretical support for this basic framework comes from business management knowledge, namely user innovation and open innovation theories (Bogers & West, 2012).

Three specific cases are discussed: My Starbucks Ideas, De Oplossing—van Interpolis and Mountain Dew's Dewmocracy.
 
Case 1: Starbucks – My Starbucks Idea
What is it?
My Starbucks Idea is an online crowdsourcing platform; it is examplary of how ideation can be used to achieve commercial goals as well as to improve brand value.

My Starbucks Idea consist of an online platform, where customers can submit their ideas, vote on other ideas and make comments on submitted ideas. The online space is brand sponsored and was first introduced in March 2008 as a place for interaction between Starbucks and its customers can lead to the improvement of the former's offerings. Anyone can register and join in the platform with a valid credential which is free of charge. As of August 20, 2013, over 162,156 ideas have been submitted. Submitted ideas are classified into three broad category sets: Product, Experience, and Involvement. During the process of idea submission registered members discuss, debate and argue on variety of topics related with Starbucks' products and services (Hossain and Islam, 2015).

Gamification was introduced through a leaderboard that ranks people according to their contribution.
 
Results
320 ideas implemented by 2013. Next to this the launch of My Starbucks Idea resulted in an increase in the acquisition of Facebook fans in the USA, which is expected to reach 36 million (2016).
 
Learnings
The process of how ideas are categorized, reviewed an implemented is not transparent. As 1 out of 500 ideas makes it to the Starbucks drawing board this can make the ideation process sub-optimal; managers need to spend too many resources on selecting the right ideas. This case shows that organizational embedding and process optimization are an important part of ideation. This means that prior to the implementation of ideation your company must assess the impact that proposed ideas will have on their different departments and secure the needed capacity to make them implementable. Your company may also choose to narrow down the range of products or services that customers can influence through their ideas.
 
Case 2: Interpolis – De Oplossing
What is it?
Based on its slogan 'To insure everything is not a solution' Dutch insurance company Interpolis created in 2013 'De Oplossing' (freely translated as 'The Solution'). The ideation campaign consisted of giving people an online space where they could share ways in which to deal with risk and prevent the risk of unfortunate situations. The purpose was for people to share simple ideas on how to prevent accidents and losses and to propose innovative solutions to common problems related to the loss of goods due to crime or accident.

On De Oplossing people who sign-in are able to also ask questions, regarding specific situations and give answers accordingly. Every answer is able to win 'likes', which make the valuable content stand out as a 'solution' to the initial question.

Experts form Interpolis also shared knowledge, which helped to give both credibility to the solutions provided as well as helped to activate the platform by showing people what they could propose ideas and answer outstanding questions. Next to this there was also a gamification layer to the initiative: members of De Oplossing were part of a ranking system that would move people from the amateur or newbie level to the expert level, depending on how much their ideas and answers were liked by others.

Finally, Interpolis gave two awards for the best ideas posted: one of € 500 for the idea with most likes and a kick-starter fund of €5000 for the idea that would be best scored by a jury of insurance experts, which would also get more support from Interpolis. While these monetary rewards can be assumed had a positive impact on participation, specific data to assess the precise magnitude of this impact is lacking.
 
Results
Over 2352 solutions were considered for the awards and the kick-start capital was won by a simple but effective window protection that prevents break-ins.
 
Learnings
In order to raise awareness and gain traffic on the co-creation initiative, Interpolis used radio and TV commercials which allowed the initiative to begin with an enormous reach and a positive sentiment. As with the Starbucks' case, management and implementation of ideas was one of the main challenges. Members who proposed popular ideas expected more in terms of communication and implementation of these. There was an additional factor, which is member exhaustion. After the TV and radio commercials ended and the ideas were less prominent in the media member activation became more difficult. With time active members who were not able to rank up become exhausted and may lose interest. It is key to the success of such initiatives, therefore, to ensure that in the long run they can still be appealing to members; this is either the result of activation campaigns or of a more efficient implementation of the ideas proposed.
 
Case 3: Mountain Dew – Dewmocracy
What is it?
In 2007, Mountain Dew launched a contest that asked customers to provide input and vote to choose the flavor of its next product. The initial campaign was a success and resulted in the 2009 product lunch of "Voltage" (Girard, 2012). The brand used again its ideation strategy again in 2009, but this time with three flavors for fans to give an opinion on, and the winner was announced in 2010. The commercial success of the chosen flavors is however something that has not been fully disclosed by Mountain Dew (Girard, 2012).
 
Results
Unfortunately, Mountain Dew did not communicate the results of its Dewmocracy initiative to the general public nor did it create realistic expectations for their customers. The commercial success of the Dewmocracy initiative remains difficult to assess.
 
Learnings
One of the key learning from the Dewmocracy ideation campaign was that it brought loyal customers very close to the brand and it gave them a real space for them to share their opinions and to contribute to the brand's success. It also shows how a low impact proposal, such as a product name, can make customers feel highly influential.
 
Insights from ideation cases
Insights
The Dewmocracy ideation initiative can successfully bring together customers and their brands by providing a unique channel of communication between different areas of the business and different knowledge that exists within their customer base and broader target audience.
My Starbucks Idea and De Oplossing shows how ideation allows companies to gain insights on their customers, use their existing customer base to evaluate the quality of their services and include their customers in the developments of new products.
My Starbucks Idea and Dewmocracy show that companies can position their brand among their customers as being transparent, forward looking and as responsive to its customer needs.
General lessons
Organizational embedding: being able to assess the feasibility of ideas provided by customers requires the relevant areas of the business to assess the value of ideas and the costs and benefits of implementing them.
Timeframes: in order to keep ideators engaged and for ideation as such to be perceived by customers as effective clear timeframes for the selection, rejection and, eventually, acceptance of ideas need to be internally agreed upon and communicated externally.
Costs and process optimization: before launching an ideation platform a company must set clear objectives, in terms of the number of ideas to be implemented within a realistic period of time. Based on this objectives, internal processes may need to be structured in order to ensure that this way of acquiring ideas is cost effective for the company.