Today I noticed that my private messages with a community member are now displayed in reverse chronological order. This means that the most recent message is at the top.
I understand the benefit of this, but now when I want to reply to that message, I must scroll down to the very bottom. This means that the oldest message – the very first message – that was exchanged is directly above the box to write my message. This means I cannot see the latest message I'm responding to. This is especially difficult when there have been many messages exchanged with a community member. I'm attaching an example – I've been exchanging PMs with this community member for 5 months now, so it takes a lot of time to scroll up and down to see what was said in her latest message so I can reply effectively.
My question is: Is this a permanent change? Is there some way I can revert back to the way the messages appeared before, with the most recent message appearing directly above the message writing box?
If it's out of my control, is it possible to change the placement of the message writing box so it appears at the top, right above or below the latest message?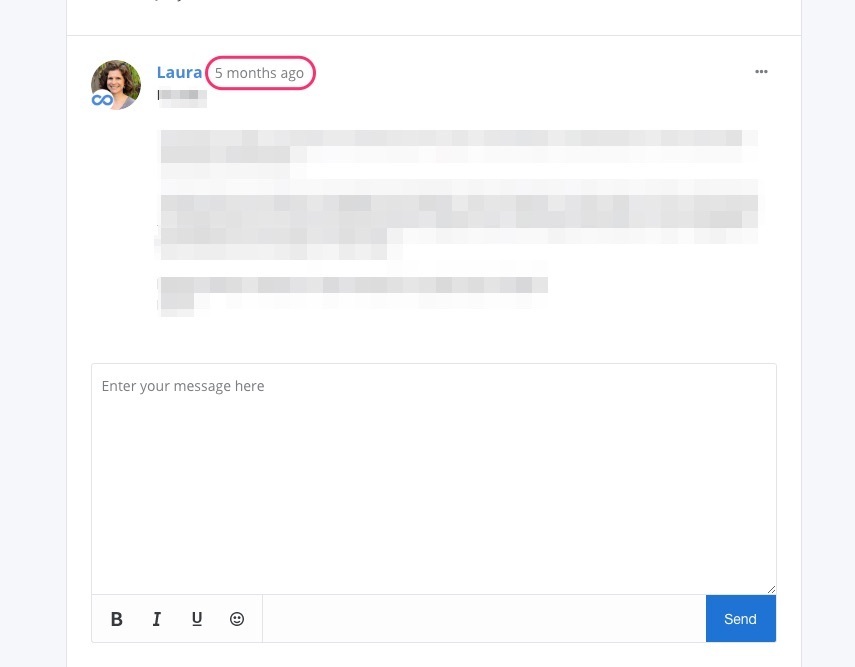 Best answer by mina 3 June 2019, 11:45
Hello @LPortalupi

To rest assure you, this is not a permanent change.

Previously, customers with huge amount of 1-1 messages, faced performance issues to load the page, as it sometimes took more than 40 secs to load the page, and this is due to amount of 1-1 messages.

To overcome, this problem, we unfortunately had to solve it with a temporary solution, which you currently experience.

But we are fully aware with the problem you just described and that it is not the most user friendly solution and currently, it has 100% of our focus to solve it in a lot better way and this is being worked on as we speak to deliver the fix asap.

Thanks.
View original