The business value of conversations - spread the word!
Your community is an effective way to activate customers and turn them into brand advocates. Community users produce a wealth of user-generated content, including helpful answers, inspiring opinions and valuable insights.
All this content can help other customers when they have service questions or are researching purchase decisions. Wouldn't it be a waste if it could only be found in one single place? The benefits from this community content are huge: service improvement, call deflection, conversion, SEO traffic and better conversion through customer loyalty and satisfaction (i.e., higher NPS). For example, A1, an Austria-based telecommunications company, reported 400% higher product sales from customers that visited their community. The question now is, how can we make even more use out of the creative content that community users create?
Accessibility of content
Most user-generated content is long-tail content - meaning it's highly specialized. For this reason, it can be challenging for community visitors to find the content that addresses their specific issue. The solution? By injecting relevant content into the online customer journey, the social layer instantly provides every customer with information that helps them solve a problem or make a purchase decision.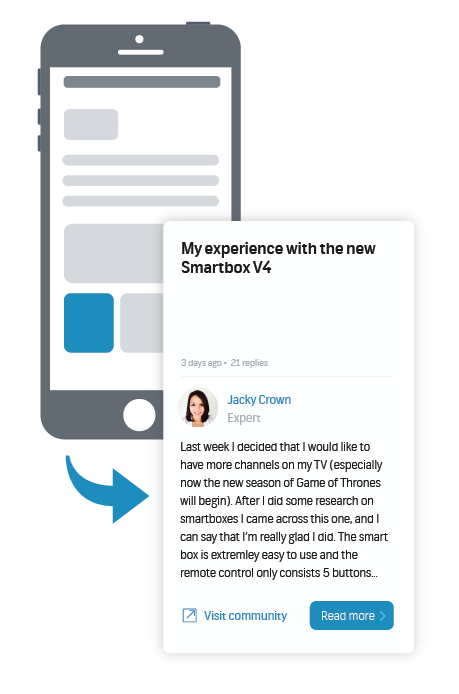 Driving the traffic cycle
You can accelerate your business goals set for the community by extending community content across other digital touchpoints. Its multi-channel integrations will help drive community success, generate more value from existing content, and even enable more content to be created. The integration traffic cycle demonstrates how these effects are self-reinforcing, growing stronger in an endless loop.