Good day!
Please help :)
It's necessary to export to Excel a list of topics and the number of comments. Please help me figure out how to do this.
Best answer by Julian 19 November 2018, 11:50
Hi Yuliasa,
that is very easy to do!
First, you have to go to 'analytics' then 'export' in your Control environment: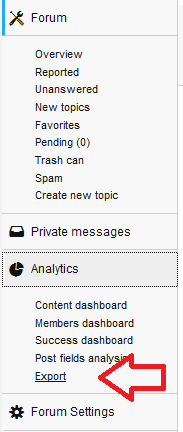 Here you can define which type of data you want to export. For your case, you want the
topic export
(check
this list
for all exports and what data they include):

Also select the date range for which you want to export data. Once the export has been created, you can download it.
The export then will include the amount of comments as well!
Tip: Should the export have an "unseperated" layout, check
this tip
to fix it in Excel.
If you have more questions about this, please let me know.
Cheers,
Julian
View original