Hi all,
As community team we are always looking for new ways to show our appreciation to our community members. Several months ago we started experimenting with sending our members 'milestone' videos. When a member reaches a certain milestone and/or achievement we record a personal YouTube video thanking them for their effort. In the video we introduce them to our team (if they haven't met them yet personally ), show them the work surroundings and really try to convey our gratitude.
The feedback from our members have been overwhelmingly positive. They really appreciate the personal touch. A lot of users state that these gestures are worth more than badges, ranks or incentives and that they are really caught off-guard (in a positive way).
Tips video:
-We first considered making a sleek studio video, but choose to make it more 'amateurish'. I believe this makes it more personal.. shows the room as it is (messy, my bad) and it doesn't look staged. This makes the video personal and spontaneous (WYSIWYG!)
-Pick one or two specific achievement and highlight it in the video. Make a remark about a specific post he or she posted or reminisce about the first time the user posted something.
- We don't stage it too much, but I always start with a personal introduction (CM), short thank you (e.g. # posts / # best answered), introduce the team, highlight why we are so happy with him/her. The last part is important, because thanking someone for #posts is a bit clinical. Create personal context and make a reference to something in particular.
Tips gifs
-Make a couple of boomerangs or gifs you can e-mail at smaller milestones (e.g 50 / 100 / 200) etc. Easy to make and with a high impact
-We always try to round-up extra colleagues (other departments) for the gif shoot. This is a fun way to involve other colleagues, but also gives the gif more 'oomph'.
- You can add the gifs to automatic rank achievements (if you want) -> automatic e-mail / PM
So.. something worth considering if you aren't already doing it 😉
Still from video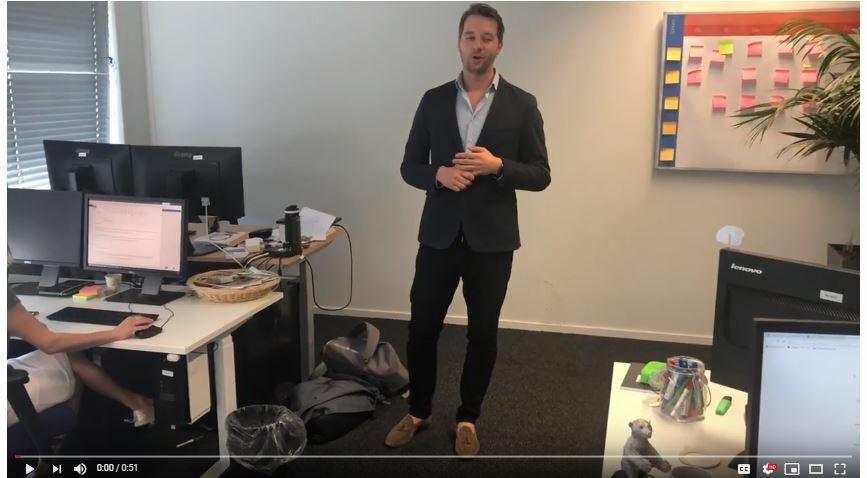 (gif from video)
Milestone gif/boomerang (e.g. 100/500/1000 post)